Floor LED Display
Floor LED Display – Excellent Flatness and Uniformity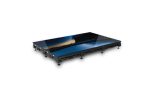 We provide interactive and non-interactive floor LED displays. They are mainly used on events stages, nights club, concerts, shows, etc. Our floor LED display is very strong, and it can bear 1.5ton/m2. People can walk or jump on it, and even a car can drive on it.
Features:
500x500mm or 1000x500mm panel size optional;
Interactive and non-interactive solutions are available;
Strong load-bearing ability. It can bear 1.5 tons per square meter.
Excellent flatness and uniformity;
Easy to set up and disassembly;
Suitable for both fixed installation and rental use.
Contact Us
We're ready, Let's talk.
Please call us on +971 4 2585754, email sales@ihgind.com
or use the quick form to contact our Business team.