Road Signal LED Display
Road Signal LED Display – High Brightness Visible in the Sun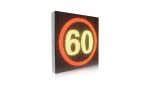 Many cities around the world are adopting LED displays in their intelligent transportation system. These versatile displays are commonly used for roadway & highway messaging, overhead traffic signs, tollbooth queuing guidance, etc. They can be used in almost any display function along a roadway.
Features:
Top-quality level LEDs used, with strong stability and long lifetime;
High brightness visible in the sun;
Weatherproof for outdoor application;
With pixel test function, more convenient for maintenance;
Excellent heat dissipation design on cabinet;
Low power consumption.
In short, our high-quality traffic LED displays to fit all your traffic signage demands.
Contact Us
We're ready, Let's talk.
Please call us on +971 4 2585754, email sales@ihgind.com
or use the quick form to contact our Business team.